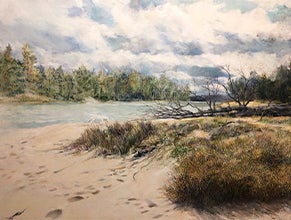 October 5 – November 17, 2019
Reception: November 9, 2019 6-7:30 PM
In 2015, I was diagnosed with Idiopathic Pulmonary Fibrosis and had to discontinue working with oil pigments, dry pigments, pastels, and certain solvents. Before this time, I primarily worked as an abstract figurative artist.
During the past several years, I have concentrated on a Series of River drawings and paintings depicting locations in the Upper Peninsula of Michigan and NW Ohio. At first the drawings appear as abstract layouts using graphite power, graphite sticks, rags, eraser's and pencils. As the drawings further develop, a visual sense of light and order comes to the surface and allows the detailed and expressive qualities of the landscape to blend together.
Viewing these works one becomes the river, the woodland, the meadow, a landscape we know and one we can envision.
Tom Hilty
I have an intense curiosity about the environment I inhabit. In my paintings I try to let light be the subject whether it is reflected from water, mirrors, lamps, or natural light. By creating these passages of light, I try to convey the sense of mystery and intimacy, which first struck me about the subject.
When starting a painting, I gather the form and then let it transfigure into something else or become part of the background. I think this can occur when I fall in love with certain areas and treat them as beautiful abstract forms. I feel that I am synthesizing elements through my senses and emotions and rearranging them visually for an intimate portrait of Nature.
When working in oils, the layering capabilities allow me a way of leaving some areas very fresh and others greatly detailed. I strive to capture not only a "likeness" but a "life force." Then like a tapestry I weave the total image together hopefully imbuing it with a unique presence and personality.
Tamara Monk
More Info