Health & Safety at MCPA
The safety and well-being of our patrons, artists and staff is our top priority. As we welcome you back to MCPA, we have put the following measures into place to make your experience as safe and touch-free as possible.
Safety Guidelines
Masks are required at all times for patrons ages 4 and up, staff and volunteers, even while seated.
Temperature checks are conducted for all staff and volunteers. Temperature checks using a non-contact infrared thermometer may be required for patron entry.
We ask patrons and staff to conduct the following self-assessment before coming to MCPA and please stay home if any of the answers are yes:
Are you experiencing the following symptoms?

Cough
Shortness of breath or difficulty breathing
Fever
Chills
Muscle pain
Sore throat
New loss of taste or smell

Have you been in contact with someone known or presumed to have COVID-19 within the past 14 days?
Patrons are asked to observe social distancing guidelines at all times while in the venue, as well as when entering and exiting.
In advance of your performance, you will receive an email from MCPA with any updated guidelines in accordance with the CDC, State of Ohio and/or City of Findlay.
Cleaning Protocols
In addition to our standard cleaning process, we are increasing the cleaning frequency of all public spaces. The cleaning and disinfecting products we used are approved by the EPA and proven to be effective against COVID-19
We are thoroughly disinfecting door handles, counters, seat armrests, handrails and all shared surfaces prior to, during and after every performance.
Touchless hand sanitizer stations are available throughout the building and at points of entry to all event spaces.
Tickets and Seating
All ticketing is contactless. There are no printed tickets, scanning will be touch-free and only credit card payments are accepted.
In accordance with the CDC and State of Ohio guidelines, our theater seating has been reduced for proper social distancing. In the Donnell Theater, our maximum seating capacity is 203 of the 969 seats. Seats are sold in groups of up to four family members or close associates and groups are located at least six feet away from each other in all directions, as shown in this seating chart: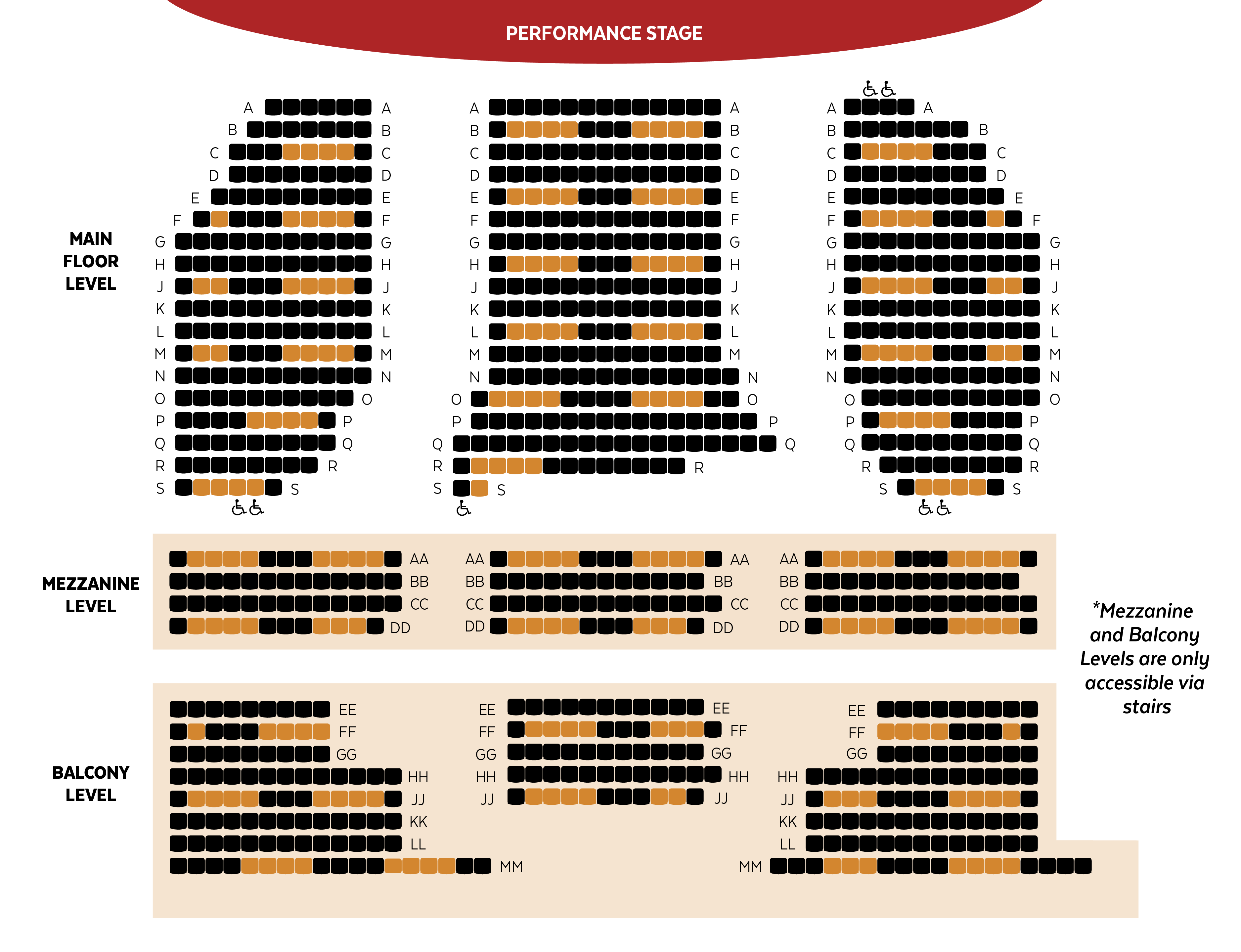 We have eliminated seats in the front row to provide more distance between the patrons and the stage, and seats on the aisle to provide more distance between patrons.
Because of the nature of socially distanced seating, you will not currently have the option to choose your own seats when purchasing tickets. Seat assignments will be made by the MCPA ticket office based on the time and date of purchase.
Tickets may be purchased for groups of up to four people. Groups larger than four will not be seated together. You will not be seated within six feet of patrons you do not know.
Concessions
MCPA's bar is open before events with a variety of alcoholic and non-alcoholic beverages, along with pre-packaged snacks.
Clear partitions have been installed between the bartenders and patrons.
Patrons must adhere to social distancing guidelines while waiting to be served.
All payments must be made on a credit card using the touchless scanner. No cash will be accepted.
Drinks and snacks must be consumed at your seat. No loitering in the bar or lobby will be allowed.
Cancellations
If Hancock County is elevated to the risk level red or purple, all events will be cancelled or postponed until the level is lowered.
If for any reason we must cancel performances we will honor your commitment to us by offering a full array of ticket exchange and refund options.
In the event of a cancellation or rescheduled show, ticket holders will be notified via email. MCPA will also post updates on cancellations on our website and all social media.
---
Please Note: The health and safety of our patrons is our main priority. MCPA will endeavor to comply with to state orders and CDC guidelines on social distancing, face coverings, and capacity. You acknowledge and agree that MCPA shall not be responsible for any illness to persons of your household or family, or yourself, and any corresponding damage, claim, or expense, of any kind, that you, your family members, or your household may experience or incur in connection with contracting COVID-19 as a result of visiting MCPA.