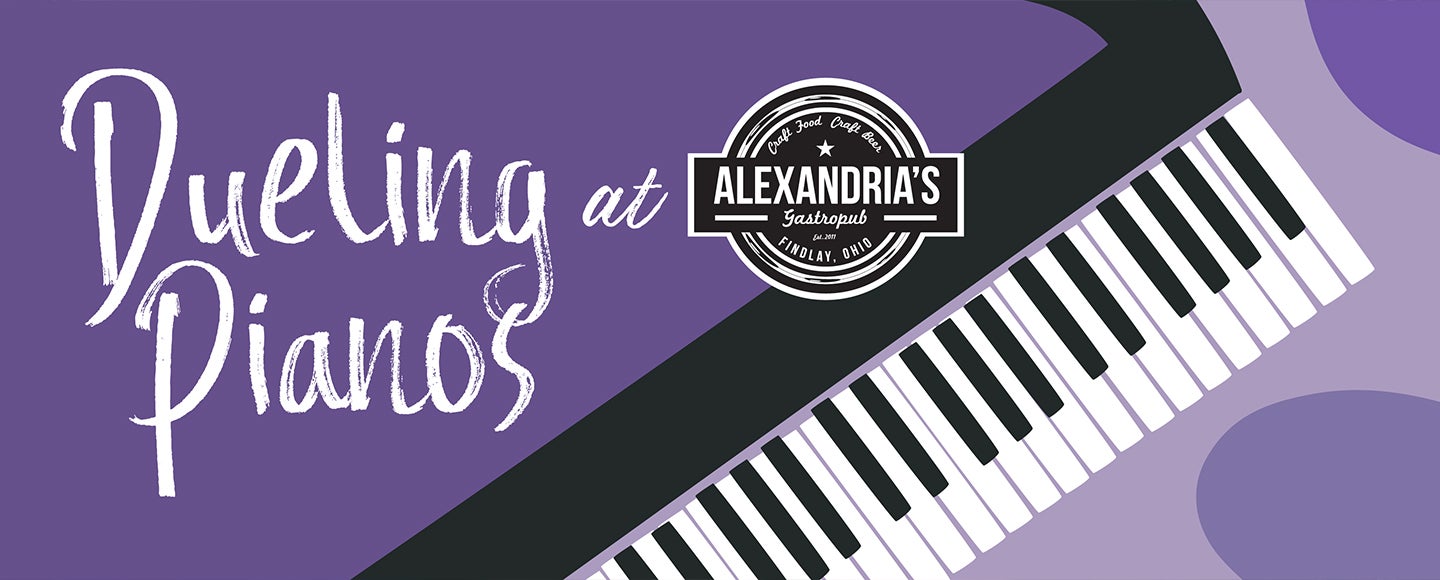 Dueling Pianos *SOLD OUT!*
Community Events
Dueling Pianos *SOLD OUT!*
Community Events
Event Details
Dueling Pianos returns for TWO nights in February! Join us at Alexandria's in Findlay on Crawford Street, Friday, Feb. 11 and Saturday, Feb. 12 at 7:30PM!

$275 per table of 10
$25 for individual General Admission

*Please note General Admission seats are NOT guaranteed to be together, they are seated on a first-come, first-serve basis. Only Table purchases are reserved.
We are looking forward to a couple of really fun nights in support of the arts!
This project is supported in part by the National Endowment for the Arts.
To find out more about how National Endowment for the Arts grants impact individuals and communities, visit www.arts.gov.
Two sharp-witted, incredibly talented musicians with 2 pianos on stage and a roomful of people. The result is an evening of fast, funny, and unforgettable entertainment. The musical repertoire ranges from Classic Rock to county, Hard Rock to R&B, and Show Tunes to Top 40. The entertainers engage the audience and make them the star! It is part group karaoke, part wedding reception, and part house party.
This event is a fundraiser for MCPA (Marathon Center for the Performing Arts)!
Where is the show located?
MCPA's Dueling Pianos event is held in the backroom of Alexandria's (The Findlay Room). Enter through Alexandria's front door, and go straight past the restrooms and that is where The Findlay Room is located.
Do I have to purchase a whole table (seats 10)?
No, however, we recommend attending as a group. Purchasing a table of 10 ensures that you and your friends sit together at a designated round table specifically for your party.
Can I purchase single tickets?
Yes. Single ticket seats are not assigned and are first-come, first seated. The single seats are placed along the sides and in the back of the room. Plan to sit next to people you may not know.
Will I need cash for anything?
Yes. Because this is a fundraiser, all song requests must be accompanied by dollars.
Is there food available during the show?
Limited menu items will be available for purchase in the event space. If you would like food from Alexandria's main menu you must order it in their regular bar area and wait there for your order to be delivered. Staff will not come find you in The Findlay Room.
What kind of beverages are offered within the event?
There is a small selection of beer, wine, liquor and sodas available for purchase in the event space. Buckets of beer and bottles of wine are available as well. If your beverage of choice is not offered in the event space, you are welcome to order from another bar of Alexandria's and bring it into Dueling Pianos.
How early can I get into the Dueling Pianos event space?
The back room will open at 6:00pm. Show starts at 7:30pm and will last approximately 3 hours.
Will I be able to go to other parts of Alexandria's?
Yes. Once you are admitted to Dueling Pianos, you will receive a wristband so you can get in and out of the event with ease. Also, if you do not find the food or beverage you want inside the event then you can go to another part of Alexandria's to order and bring it back in with you to Dueling Pianos.