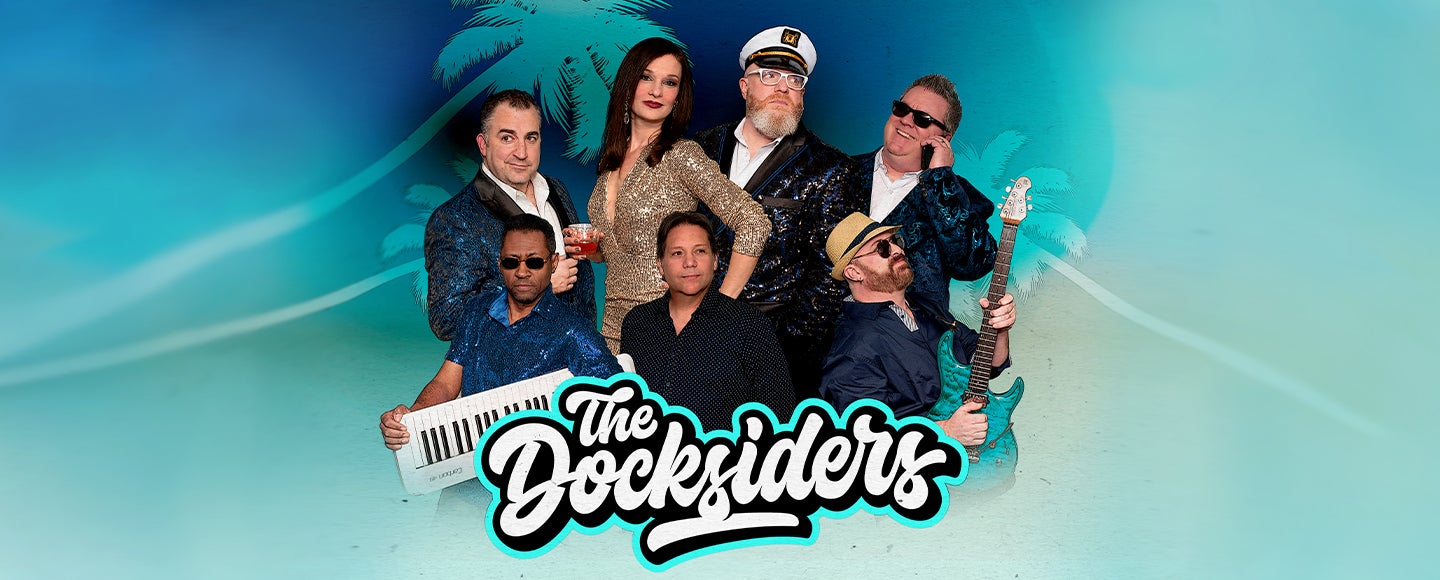 The Docksiders
Event Details
Imagine that its 1981 and you're cruising the Atlantic shores of the Hamptons with your friends. Bikinis are fluorescent, polo collars are popped, and boat shoes are rocked sockless. In the background, your booming sound system is playing the soft-rock sounds of Michael McDonald, Olivia Newton-John, Hall & Oates, Christopher Cross and Air Supply.
The Docksiders are made up of veteran musicians from Milwaukee, Wisconsin – led by 3-time Grammy™ nominee, Kevin Sucher. Their unique tribute act of your favorite soft rock songs of the 70s and 80s – now defined as Yacht Rock – have been entertaining thousands of people for years and audiences are only getting bigger – thanks Weezer!
The Docksiders show-stopping hit song after hit song, costume changes, and visual production, is only topped by their world-class performance. The Docksiders – Yacht Rock at its Finest!
Additional Ticket Information
The price level corresponds to the distance from the stage with Gold Circle being the closest followed by Price Level 2 and then Price Level 3.
How many Pods do I need to purchase?
All pods can have a maximum of 6 people per Pod.
For example:
Have 4 People in your party? You'll buy 1 Pod and all 4 people get in for that price!
Have 8 People in your party? You'll buy 2 Pods and all 8 people get in for the price of 2 Pods!
What safety measures is MCPA taking for this concert?
Based on the CDC's recent recommendation and Governor's updates, all unvaccinated employees and volunteers working the concert will be wearing face coverings inside.
We ask attendees to observe the guidelines below and other established social distancing procedures in order to maintain a safe environment and not jeopardize MCPA's ability to present future events:
Face coverings for unvaccinated attendees are asked to wear masks while inside MCPA.
Please remain 6 feet away from other patrons when outside of your pod.
The restrooms will be sanitized throughout the evening and hand sanitizer stations will be available to patrons entering and leaving the building to use the restrooms.
Wash your hands and use hand sanitizer frequently.
What if there is bad weather?
Due to the sensitive equipment needed for this type of production, the show may be moved into Donnell Theatre or cancelled if there is the threat of extreme weather.
The decision to cancel will be made by 12 noon the day of the show.
Cancellations will be communicated to the ticket holders via phone calls and/or email. The public will be notified through email, MCPA website and social media.
When can I arrive for the show?
Attendees will have access to the parking lot starting at 6PM.
Where do I enter for the show?
Parking is available in MCPA's two back parking lots, entrances located on S. Cory, W. Front and S. West Streets. The W. Main Cross Street entrance will be open to pedestrians only.
Staff members will take a touchless scan of your ticket and direct you to your pod.
Will there be concessions?
A concession stand serving a limited menu of various sodas, water, wine and beer will be set up outside.
Social distancing will be necessary while waiting in line.
MCPA is a part of DORA. Cups from other venues must be discarded when entering the parking lot and new cups are available at the bar.
Feel free to bring snacks or a picnic, but no outside alcohol is allowed due to MCPA liquor license restrictions.